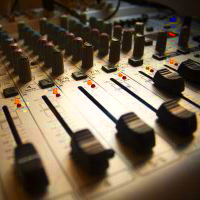 | STUDIO |
Society of Sound's Junction District studio and mastering facility is located amidst a vibrant and rich art community. Rife with artists and musicians, the creative scene is full and diverse. Our 1600 square foot studio is a multi-purpose open space that includes a natural acoustic ideal for recording or rehearsing small to medium ensembles. Featuring a 19 foot ceiling with maple hardwood floors and adjustable baffling with variable acoustic dampening our studio is a great place to experiment with pre-session recording projects.
The studio is equipped with full kitchen and bathroom facilities, heating and air conditioning, parking for multiple vehicles and comfortable work areas with wifi and telephone.
The studio can be quickly repurposed for photo and video sessions with very little lead time. Boasting a green screen ready staging area as well as the ability to power 12,000 watts of light in house, our studio is ideally suited for your next photo shoot and music video project. Inquire about our rental options for rehearsal purposes as well.
Microphones include Schoeps, DPA, Neumann, Sennheiser, AKG, Shure and Sony.
B&W 801 Matrix Series 3 monitors.
Tannoy System 6 nearfield monitors.
Microphone Preamps by Millennia Media, Cranesong, AMS Neve.
Analog to Digital convertors by Apogee Digital.
AMS Neve 8816 summing mixer with fader pack.
Mastering compressors by Millennia Media and DBX.
Mastering EQ by Cranesong.
Digital and analog tape systems by Tascam, Panasonic and Yamaha.
HHB compact disc playback systems.
Monitor and headphone power amplifiers by Hafler.
Analog boards by DNR and Soundcraft.
Talkback systems by Quantum.
Vinyl recording playback by Linn.
All cabling by Mogami.