Photo of Adele in studio recording her new record 25. You'll notice she is using one of those mini ambient room filters with her vocal mic. You can pick those up at any music retailer and are an affordable solution to large baffles and such.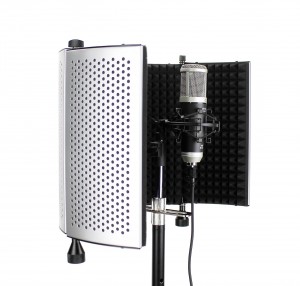 I was recording vocals in my studio a few weeks back and needed some extra baffling and considered this but ultimately went another direction.
What I like about the photo is that it reminds me to not be so judgemental about bargain solutions in my search for recording great audio. Even a $150 baffle can sell millions of records.
Photos by Alexandra Waespi